The Pulp and Paper industry is booming and new innovations and trends are constantly emerging across multiple sectors. Within the past year, there has been buzz around a number of industry topics – from tissue and towel developments to innovative pulps and skyrocketing corrugated demand.
As we approach the end of another tumultuous year, some of the most prescient movement we've seen develop across the industry pertains to structural patterns driven by Covid, sustainability and energy trends, and the evolving P&P sector in China.
Post Covid-19
The Covid-19 pandemic sent shockwaves across the globe and throughout many industries as populations have had to completely alter their lifestyles. Lockdowns, mask mandates, work-from-home orders and online schooling became the new normal for most of 2020 and into 2021. Within the Pulp and Paper industry, we experienced the equivalent of 10 years of market change within a single year.
The most glaring examples of this include:
E-commerce was the primary driver of the surge in corrugated and containerboard demand that has skyrocketed over the last two years. In 2020, e-retail sales accounted for 18% of all retail sales worldwide and we've seen that number continue to grow across the globe; e-commerce sales in the US totaled nearly $438 billion in the first half of 2021, an $80 billion increase compared to the 1H2020.
Retail E-Commerce Sales in the US (2009-2021)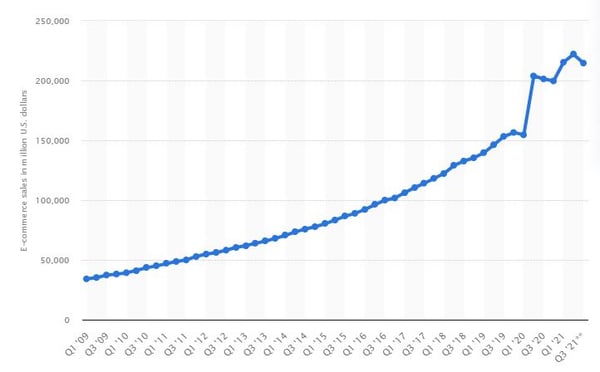 Source: Statista
As we can see in the image above, 2Q2020 illustrates a significant increase in e-commerce sales compared to the consistent, steady incline that had been occurring since 2009. As a result, paper producers have had to respond to this shift in demand by significantly increasing their capacity.
This trend prompts two important questions:
How much penetration will e-retail sales ultimately have?

What happens as e-commerce becomes an increasingly larger share of containerboard demand and packaging gets optimized to result in a lower box intensity?
While there is no way to confidently predict the future, European containerboard producers are confident there is plenty of room for growth within the segment. The graph below illustrates the actual and projected European net capacity development by major grade, and as we can see the capacity for containerboard is expected to continue to increase beyond 2021. Will demand for lower grammage e-commerce packaging force some of the older, smaller or higher grammage producers out of the market when new, more efficient capacity enters the market?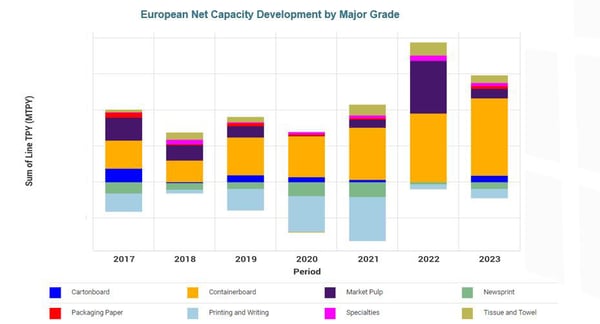 Source: FisherSolve Next
Sustainability
Environmental and sustainability initiatives continue to shape decision-making at the corporate and policy levels, and the momentum behind these efforts is here to stay. While EU nations are leading many of the legislative efforts, major international brands such as Apple, Amazon, Unilever, Starbucks and Nike have announced significant sustainability initiatives and have already taken action to be carbon neutral companies—some as early as by 2030. These trends will continue to create significant opportunities for paper producers in the coming decade.
For example, a significant percentage of plastic packaging can be replaced in the EU without compromising functionality. As we can see in the image below, there are a number of different consumer sectors that present opportunities for the P&P industry to create and market substitution products.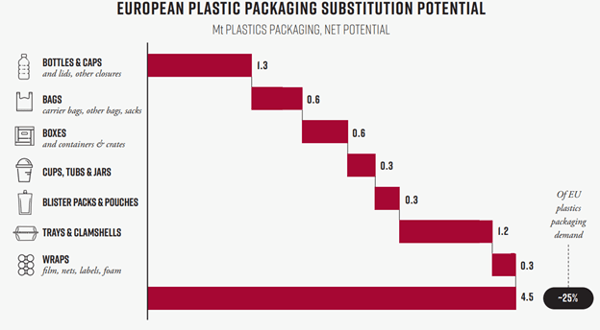 Source: Sustainable Packaging - Material Economics
In addition to plastic substitution opportunities, the EU emission trading system (ETS) continues to apply pressures that are altering corporate and consumer behaviors. By 2025, the ETS carbon price is estimated to reach 100 €/ ton, a €50 increase compared to May 2021. This price pressure will function as an incentive for companies to rapidly reduce emissions so they don't have to pay such a large price for the carbon they're using.
Other countries have followed the EU's example and have also taken action to reduce greenhouse gas (GHG) emissions. According to Climate Action Tracker, many countries have pledged varying degrees of climate reduction targets in order to reach carbon neutrality by 2050:
United States (50% reduction by 2030 from 2005 levels)

Canada (40-45% reduction by 2013 from 2005 levels)

Japan (46% reduction by 2030 from 2013 levels)

South Korea (40% reduction by 2030 from 2018 levels)

UK (68% reduction by 2030 from 1990 levels)

Germany (65% reduction by 2030 from 1990 levels)
Individual companies are following suit because carbon costs have already proven to have an impact on the Pulp & Paper industry. Those who were early adopters of low carbon strategies will most likely end up in a position with great competitive advantage, while mills that lack the means to rapidly reduce their carbon emissions may not receive as much investment as they would have several years ago.
For example, the graph below illustrates containerboard Scope I (fossil fuel combustion) and Scope II (purchased electricity) emissions by country. As we can see, India, China and Vietnam are the top three highest emissions-producing countries. With China being one of the largest paper-producing countries and one of the highest emitting countries as well, this raises a couple of important questions about the future: If China aggressively pursues carbon neutrality, would more paper production shift to neighboring countries? And if so, where exactly would production move to?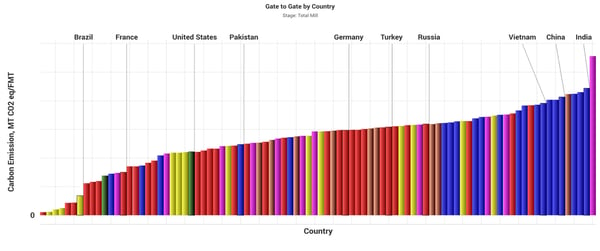 Source: FisherSolve Next
Of the manufacturers in the packaging segment, consumers will now most likely choose those who have a smaller carbon footprint. This trend can change the power balance within the industry because the consumer is placing more emphasis on how products are being made and what they're being made of, instead of solely focusing on quality and cost. For example, corrugated producers who only offer heavy product grades in their product line are already losing their competitive advantage in the e-commerce sector where lighter weight boxes are in high demand. Lighter grammage means more boxes can be produced from the same amount of expensive raw material, but less carbon per box.
High containerboard prices in combination with high operating rates have been beneficial for producers. However, moving forward, new investment in new capacity could potentially impact business two ways:
New capacity can influence the market price and capex spent on new assets.

This will most likely pinch margins in the short-term.
As a result of this, we will likely see increased industry consolidation, especially by producers who are acquiring more corrugated box-making capacity and large companies seeking profitable paper producers in locations that fit their business and growth strategies. This would help avoid both hurdles, and synergies can further improve business agility.
China's Influence
Because of its size, China has significant influence in the global Pulp and Paper trade. However, as trade, legislative and environmental changes continue to impact the country and disrupt its vibrant manufacturing sector, it can have a rippling effect on producers everywhere. Current challenges include:
China is forced to buy higher-cost raw material substitutions as a result of the decline of imported recycled paper (RCP).

Since China is a large exporter of goods that are packaged in containerboard boxes, the fiber shortage cannot be solved through the repurposing of fibers within China.

To meet the surging demand for packaging, China has to increase containerboard sourcing from other countries.

Chinese containerboard producers are building infrastructure in neighboring countries.

Nine Dragons, Lee & Man, APP, Sun Paper, Xianhe Co. and Jianhui Paper are currently building (or have announced) 10 million annual tons of new chemi-mechanical pulp capacity to be built in the southern province of Guangxi alone. This capacity will mainly go into carton board grades, but some will go into containerboard. It will also help Chinese producers to address the energy shortage as these facilities will provide green energy.
So, the burning questions for China's pulp & paper industry in the near term are:
Will these measures be enough, or will China be forced to outsource a large portion of its paper making into other countries where low-cost fiber and low-cost/low-carbon energy is readily available?

Can the ultimate solution for China's fiber shortage be found in containerboard made from euca pulp based Kraftliner? Large euca kraft market pulp mills are being built in Latin America and lowering the market pulp unit costs. Can part of this capacity be used in containerboard making in China?
If global markets in 2022 are anything like they have been during the last two years, continued volatility and uncertainty will be the norm. Strong performance in volatile markets is possible, but it must be based on good decision-making driven by a sound understanding of current trends with an eye towards the future. However, making good decisions consistently requires experience and high-quality business intelligence, two areas in which Fisher International lives and breathes to provide the best possible insight to our industry. For insight into some of the questions above, talk with an expert at Fisher today.