At the beginning of the year, ResourceWise's VP of Global Sales Matt Elhardt shared his predictions for the Pulp and Paper industry in 2022. Now that the year has about come to an end, we wanted to look back at some of these predictions and see how they played out over the year.
1. An increase in fiber-based packaging as an alternative solution to plastic packaging
As the sustainability movement continues to gain traction, there is a clear trend to move further away from unsustainable packaging and utensils. As a result, companies have been on the hunt for a replacement material that can be used to create a variety of products and is still efficient yet eco-friendly.
About 70% of the world's products are transported, from businesses to consumers, in corrugated packaging. Due to its adaptable nature, it can be produced in any shape and size for optimal handling and distribution as it is the perfect packaging material for all goods. Corrugated packaging is also 100% recyclable, bio-based, and biodegradable, making it a vital part of the circular economy.
A few of the major companies we saw make the switch from plastic to fiber-based materials this year, as well as governments who passed legislation banning the use of single-use plastic, include:
In addition to corrugated packaging, some companies have recently looked into revolutionizing the capabilities and products made from other fiber-based materials, such as formed fiber.
Formed fiber is a renewable, recyclable and biodegradable material that can be used to replace plastics in a wide range of applications. Historically, most products have been made from low-quality recycled pulp, but a growing amount of formed fiber products are now manufactured from various chemical pulps and chemi-thermomechanical pulp (CTMP) by pressing it into a desired shape in a molding machine.
Companies we've seen invest in form fiber include Stora Enso, who announced this year that it is investing €8 million to double its production capacity of formed fiber at its Hylte site as demand increases, and PulPac, who created the PulPac Production Unit 300 ton (PU300) – the world's first automatic, standardized production unit for dry molded fiber.
After the investment is completed, the Hylte site's annual formed fiber capacity will grow from 50 million units of product to approximately 115 million units of product – a 130% increase that will make Stora Enso one of Europe's leading suppliers of formed fiber.
The cost structure and cycle time/production rate of the PU300 are on par with plastics and can even produce 30 spoons in roughly 3.5 seconds. Single-use cutlery experiences billions of units of demand each year, especially as regions in Europe begin to implement bans on non-sustainable plastic cutlery. And PulPac swooped in on this opportunity as its starting annual capacity is 230 million sustainably-made spoons.
Another fiber-based material that is gaining popularity is unbleached recycled fiber market pulp, also known as brown recycled pulp or BRP. This is a new grade of market pulp that didn't exist before 2017, but is expected to be a hot raw material in the Pulp and Paper industry within the next couple of years. BRP is produced using recovered paper that has been processed through state-of-the-art stock preparation systems, formed, dried and then shipped in bales or rolls. The material uses fiber from roughly 70-100% old corrugated containers (OCC), with mixed paper (MP) making up the remainder. It can be used as a replacement for traditional recovered fibers in the production of containerboard.
Most of the current demand for BRP is coming from China as producers look for alternatives since its global ban on recovered fiber was implemented. This means that as of now, the majority of BRP is currently being produced in other Asian countries.
2. More deals
Throughout the year, we saw quite a number of deals occur from companies all around the globe. Below is a brief overview of some of the various investments, acquisitions and mergers that occurred in 2022:
3. A slow-down in demand for paper in China
China has been the largest player in the P&P industry for many years, and it still is – however, within this year, we've started to see a bit of a slow-down in China. China's zero-COVID policy has negatively impacted demand, with both OCC and containerboard prices falling to the lowest level in two years. China's recovered paper (RCP) policy, which bans unsorted waste paper imports, and its ban on OCC imports continues to impact its market as well.
OCC exports from the US have rotated away from China and a few market pulp grade imports have remained flat or declined, such as kraft pulp and refiner pulp. As a result, other Southeast Asian countries have benefited, which we can see from the historical amount of capacity that was added in 2022.
Net Capacity Changes by Country, SEA

Source: FisherSolve
When we look at the capacity trends module in Fisher International's FisherSolve business intelligence platform, we can see that the top five countries with the largest compounded annual growth rate (CAGR) for pulp and paper production capacity between 2013-2021 include Laos, Myanmar, Turkmenistan, Armenia, and Kenya – meaning they have experienced the most significant growth based on their prior production capacities during these years. Laos, Myanmar and Turkmenistan are neighboring countries to China, which proves how China's recent legislation has fueled growth in nearby countries and presented a large opportunity in many of these areas to invest in the equipment and machinery needed to make up for this loss.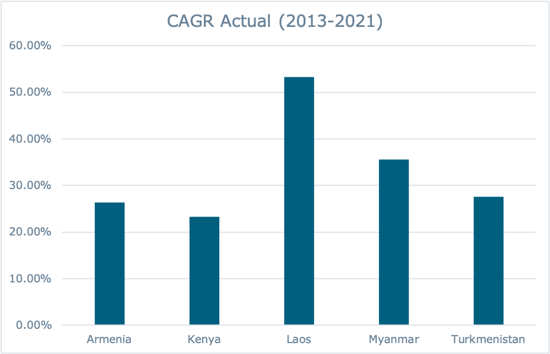 Source: FisherSolve
Additionally, we've seen a number of major companies who are considering or have already pulled production out of China. For example, at the beginning of December, Apple accelerated plans to shift some of its production outside of China. According to the Wall Street Journal, Apple is telling suppliers to plan more actively for assembling Apple products elsewhere in Asia, specifically India and Vietnam, and to look to reduce dependence on Taiwanese assemblers led by Foxconn Technology Group – one of the company's top suppliers and operator of the world's largest iPhone factory in China.
4. Increased focus on ESG initiatives
Environmental and sustainability initiatives continue to shape decision-making at the corporate and policy levels, and the momentum behind these efforts is here to stay. While EU nations are leading many of the legislative efforts, other countries and major international brands have announced significant sustainability initiatives or have already taken action to be carbon neutral, some as early as by 2030, as well as making the transition away from plastic to end plastic pollution. These trends will continue to create significant opportunities for paper producers in the coming decade. Below is a brief overview of some of the various initiatives that occurred in 2022:
5. More investments in "Industry 4.0"-related technologies
Industry 4.0 refers to the fourth industrial revolution and, generally speaking, describes the growing trend towards automation and data exchange in technology and processes within manufacturing. Industry 4.0 technology is built upon nine pillars – Big Data being one of them.
According to Fortune Business Insights, the global Industry 4.0 market size was valued at USD 114.55 billion in 2021, and is projected to grow from USD 130.90 billion in 2022 (+14% YoY) to USD 377.30 billion by 2029, a CAGR of 16.3% during the forecast period.
This comes as no surprise as BDO explains in its 2021 Industry 4.0 Survey that those who adopted Industry 4.0 strategies prior to the pandemic were better equipped to mitigate the disruptions and were positioned for growth compared to those less digitally advanced. Meaning, investing in Industry 4.0 technology when entering a period of uncertainty, which is what these last couple of years has been, is more likely to bode well for a company's success, than it is to be an unnecessary cost.
Some examples of companies we saw invest in Industry 4.0-realted technologies this year include:
Sustainable profits come from the value gained through constant refinement of utilized assets. In commodity businesses like pulp and paper, that effectiveness is driven by a wide range of decisions which, when made marginally better, result in higher prices, higher operating rates, lower costs, and lower volatility than in less well-run firms.
To make sure you don't miss our upcoming post on Fisher's 2023 Pulp and Paper industry predictions, sign up for Fisher's weekly blog updates.